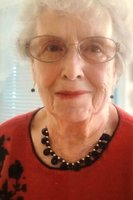 Dorothy B. Guerrette
Dorothy B. "Betty" Guerrette, residing in Fishkill, passed away peacefully at her home surrounded by family on Sunday, April 7, 2019. She was 88 years old.
She managed to maintain her pleasant disposition throughout her 10 year struggle with Alzheimer's disease with grace, dignity and courage.
Daughter of the late Edward and Emily Bedford Harper, she was born March 28, 1931 in London, England. On March 6, 1954 she married Guy J. Guerrette in London, England. Mr. Guerrette preceded her in death on July 24, 1990.
Prior to her retirement, Betty worked at Sears in Poughkeepsie. She enjoyed crocheting and sewing as well as gardening. She treasured time spent with her family, especially her grandchildren and great-grandchildren. Her family meant the world to her.
Survivors include her daughters, Diane G. Carignan and her husband, Paul of Wappingers Falls, Julie Cunningham of LaGrange, and Elaine Parrinello and her husband, Bob of LaGrange; her daughter-in-law, Susan Guerrette; her six grandchildren, Leah Speck, Emily Crowley, Melissa McGarry, Ashley Cunningham, Michelle Carignan, and Justin Cunningham; and her three great-grandchildren, Annabel, Lincoln, and Camden Speck.
In addition to her husband, she was predeceased by her son, David Guerrette, her son-in-law, Bruce Cunningham and her brother, Edward Harper.
Family will receive friends on Thursday, April 11, 2019 from 10 a.m. to 12 noon at Straub, Catalano & Halvey Funeral Home, 55 East Main Street in Wappingers Falls.
A funeral service will follow at 12 noon at the funeral home. Interment will then follow at Poughkeepsie Rural Cemetery, South Avenue in Poughkeepsie.
In lieu of flowers, memorial donations may be made to the Alzheimer's Association, 2649 South Road, Suite 101, Poughkeepsie, NY 12601 or Hudson Valley Hospice, 374 Violet Avenue, Poughkeepsie, NY 12601.
The family wishes to thank Betty's aide for the past four years, Myka Peacock, for her care, compassion, dedication and devoted love. They would also like to thank Jolene and the Hudson Valley Hospice team for all their help and guidance.
For directions or to send a personal condolence, please visit our website at www.StraubCatalanoHalvey.com.