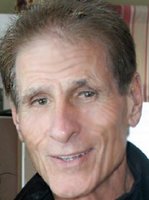 Ronald F. Paglia
Ronald F. Paglia of Wappingers Falls died peacefully at home after battling a long illness. He was 76.
Son of the late Nicholas and Helen Paglia, he was born in Johnson City, NY on February 9, 1943. Ron proudly served his country in the United States Navy from 1960 to 1962, until he was honorably discharged.
On June 26, 2004, he married the love of his life, Cathy Sisia, under the gazebo in Mesier Park in the Village of Wappingers Falls. They loved each other deeply and did everything together. Mrs. Paglia survives at home in Wappingers Falls.
After honorably serving his country, Ron formed a band called "Ronnie & the Satin Dolls" where he was drummer. His true love for music led him and his band all over the world. Following a short stint in the corporate world, Ron found his true passion in personal training. He worked as manager of personal training for All Sport in Fishkill, and later as a personal trainer for Gold's Gym in LaGrange. In his spare time Ron loved all things outdoors. He climbed Mount Rainier and Mount Kilimanjaro, even having his own hiking business at one time. He loved biking and rode in many charity events. He always participated in Walk A Mile in Her Shoes and Miles of Hope, and even held fundraisers for victims of hurricanes Katrina and Andrew. Ron had a great vigor for life, he was a true fountain of youth.
In addition to his wife, Cathy, he is survived by his children, Nicholas Paglia and his wife, Kathleen of the state of Florida, Angela Mather and her husband, Brooks of Wappingers Falls, and Ronald Paglia, Jr. and his wife, Jennifer of Poughkeepsie; step-children, Stephanie Daley and her husband, Chris of Pleasant Valley, and Christopher Habich of Poughkeepsie; brother, Robert Paglia; sister, Philomene Sherwood; grandchildren, Ryan, Jamie, Ty, Wil, Connor and Bryce; great-granddaughter, Adele; several nieces and nephews; and many friends.
A Memorial Mass of Christian Burial will be offered on Saturday, December 14, 2019 at 10 a.m. at St. Mary Mother of the Church, 106 Jackson Street in Fishkill.
In lieu of flowers, memorial donations may be made in Ron's name to Hudson Valley Hospice, 374 Violet Ave, Poughkeepsie, NY 12601, www.hvhospice.org.
For directions of to send a personal condolence, please visit www.StraubCatalanoHalvey.com.