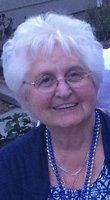 Elizabeth T. Wall
Elizabeth Teresa Baltrusaitis Wall, a resident of Wappingers Falls, passed peacefully in her home on July 5, 2021. She was 87 years old.
Elizabeth was born on September 29, 1933. The daughter of the late Freida and William Baltrusaitis, she was a native of Wilkes Barre, Pennsylvania, but spent most of her life traveling across the country and occasionally abroad with the love of her life, the late Joseph Edward Wall; Joseph preceded her in death, passing on March 5, 2014.
The couple married in El Paso, Texas, March 2, 1954, and that's when the fun started. From El Paso, to Binghamton, NY, Shreveport, LA and Grand Forks, ND…these kids were having a ball…oh, and four children. The couple will always be remembered for their good humor. Individually, they were both hysterical, but together they were side splitting. Betty was an artist, and Joseph an engineer….(nerds are fun) After Joseph's retirement, together they created a craft business, Buffy's Best. Joseph did the wood work in the garage, while Elizabeth painted on the back porch. The faces on her paintings, especially the eyes, were a window to a soul filled with love and laughter. She showered the Hudson Valley with sunshine, love and warmth. She touched so many with her artistry. Always a kind word and a warm smile…she opened her home and her heart to everyone….and by the way…she also had a banana cake on the table. You know what we are talking about!!!
She is survived by her children, Joseph L. Wall and his wife, Catherine of Waterbury, CT, Michael T. Wall and his wife, Angela of Phoenix, AZ, Lori E. Herzhauser and her husband, Donald of Fort Mill, SC, and Mary Chris Wall of Los Angeles, CA; sister-in-law, Regina Wall of Richmond, VA; and her grandchildren, Joseph W. Wall and his wife, Christen of Ft. Lauderdale, FL, Andrea L. Wall of Bristol CT, Christopher T. Wall of Fayatteville, AK, Christian Wall of Phoenix, AZ, and Bryan T. Herzhauser, stationed in Bremerton, WA.
Visitation will be held on Monday, July 12, 2021 from 5 to 8 p.m. at Straub, Catalano & Halvey Funeral Home, 55 E. Main Street, Wappingers Falls, NY 12590.
A Mass of Christian Burial will be offered at 10:00 a.m. on Tuesday, July 13, 2021 at St. Mary's Catholic Church, 11 Clinton Street, Wappingers Falls.
In lieu of flowers, donations in the name of Elizabeth Wall can be made to St. Jude Children's Research Hospital, www.stjude.org.
For directions or to send a personal condolence, please visit www.StraubCatalanoHalvey.com.