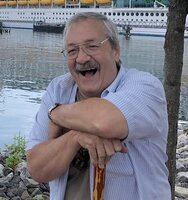 James M. Arnold
Jim Arnold (70) passed away on June 16, 2022 in Wappingers Falls, NY after living with emphysema for many years. He was surrounded by his family when he passed.
Jim was a talented artist, making bird houses, metal flowers, carvings and always wooden Christmas presents. He could fix almost anything and earned the nickname "Sawdust" from all the kids in the neighborhood. They could come to him whenever they needed anything fixed that got broken. There were often decks, tree forts, and ponds built on weekends.
Living in Alaska was a dream of Jim's, and he and Marge moved there in 1980 and lived there for 33 years. He loved the outdoors, either fishing, camping, hunting, boating, or just throwing horseshoes in the yard. His favorite thing about Alaska was that he could step outside the front door and see mountains.
The family moved to New York after their son, Bryan, graduated from the University of Alaska in 2013 to be closer to Kevin, who lived in New York City. The projects continued with a greenhouse and larger pond in the new yard.
Jim is survived by his wife, Marge, and sons, Kevin and Sam. He was preceded in death by his son, Bryan who held a special place in Jim's heart.
A celebration of life will be held Sunday June 19th, Fathers' Day, for his immediate family. Memorial contributions in his name can be made to the Make a Wish Foundation of Alaska at 430 W 7th Ave #110, Anchorage, AK 99501. Special memories and condolences can be sent to the family at 7 Ervin Drive, Wappingers Falls, NY 12590.