About Us
At our funeral home, we understand the importance of family. We believe in treating your family as we would our own. To do that, it's best you know a little about us first - please explore this section so that you may learn about our caring staff, our beautiful facilities, and our history of service.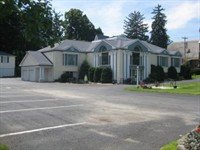 Straub, Catalano & Halvey Funeral Home is located at 55 East Main Street in the historic Village of Wappingers Falls, Dutchess County, New York. We serve the families of Wappingers Falls and the surrounding communities with professionalism and dignity at their time of need.
As you arrive to the funeral home, you can park in our off street parking lot which can accommodate thirty vehicles. Additional parking is available off the rear of the parking lot, as well as on street parking. Near the main entrance of the funeral home, is our koi pond. As you watch the waterfall run into the pond and gaze upon the fish carelessly swim about you may, for just a minute, forget why you are here.
Upon entering the main entrance you will notice the "grand staircase" which will lead you to the main level of the funeral home. Our elevator can also be found inside the main doors. Upstairs are our two chapels for visitation, handicap accessible men's and women's restrooms and our lighthouse themed lounge. The main chapel, to the left at the top of the stairs, has seating for about sixty. The rose chapel, to the right at the top of the stairs, has seating for forty. Both chapels may be expanded for additional space and seating. For services held at the funeral home, chairs can be rearranged for seating for approximately one hundred to one hundred seventy-five. When you leave the funeral home, you will notice the seasonally decorated large windows; we feel they give the main entrance a light and open feel.
Should you need to make funeral arrangements, our arrangement office is located through our Mesier Avenue entrance. This private entrance allows us to meet with you and your family in a quiet setting without interruption. In our arrangement office, we will sit at a large table and discuss what options are available for you and your family. Near our arrangement office is our newly renovated selection room. This selection room displays thirty different caskets for burial and cremation. We also offer many options by way of urns and burial vaults. We are here to help you create a meaningful tribute with a casket, urn or burial vault that meets your needs.
We believe our funeral home is well designed to meet all of your needs for funeral arrangements and services. If you would like to have a tour of our facilities, please feel free to call and set up an appointment.

Our History
We stand behind our reputation and will continue to serve our community with the values instilled by our funeral directors.

Our Staff
Our dedicated and supportive staff are here to guide you through this difficult journey. We take pride in doing our absolute best to ensure your needs are met. We are here for you.

Map & Directions
The passing of a loved one may often lead to a long road home. Whether you're coming from near or far, we've made finding us as simple as possible.

Our Facilities
Our home is yours. Please, take some time to familiarize yourself with it; we've worked hard to make our home as warm and as inviting as possible.

Contact Us
Looking for something you can't find? We make it easy to get the answers you need. Please feel free to contact us at any time.

Testimonials
Your impression of the quality and value of our services is very important to us. We respectfully ask for your assistance in evaluating the services we provided, as this will enable us to provide the best possible care to others who turn to us in their time of need.