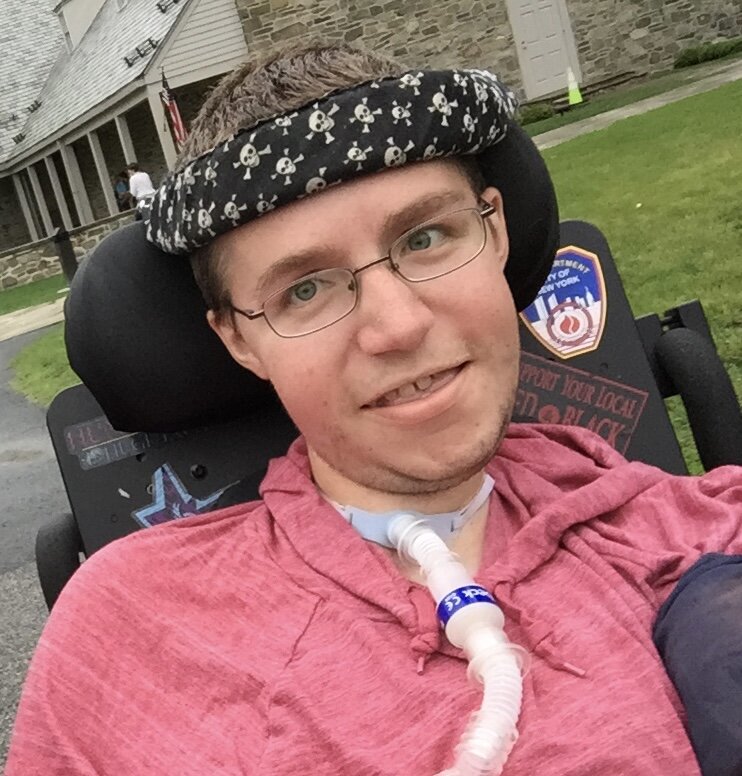 Obituary of Bryan R. Arnold
Bryan Arnold, 30, passed away on December 8 from complications of Duchenne Muscular Dystrophy. He was a fighter until the end, a trait anyone who knew him well understood about him. He refused to let his disability get in the way of living his life and enjoyed getting outdoors to explore the trails and parks accessible to him, trips to the city, movies, and barbeques in campsites he and his caregivers visited during their outings in Alaska and New York.
Bryan was born in Anchorage, Alaska in 1991. He had a love of speed and daredevil adventures, flipping his wheelchair over on the playground several times in elementary school, much to the horror of the school nurse. During his junior year in high school, he created a movie about living with muscular dystrophy and acceptance of people like him. It won numerous international, national and state of Alaska awards. His movie was sent to all the schools in Alaska, educating students about those with disabilities. It was also shown on the Channel 2 news, so he became quite well known in Alaska. He was invited to the Kennedy Center in Washington, D.C. in 2009 to honor him for an essay he wrote about his journey with Muscular Dystrophy and life living on a ventilator. He played wheelchair soccer with Challenge Alaska, skied on a sit-ski at Alyeska, and camped and explored much of Alaska in his family's motorhome. He graduated from the University of Alaska with a degree in Journalism and Public Communications in 2013, one of the first Muscular Dystrophy students to ever do so.
Bryan and his family moved to New York in the fall after he graduated, following his brother, Kevin, who lived in New York City. The move enabled Bryan to explore a new road system and experiences not available in Alaska. He loved attending the 3-day Firefly music festival in Dover, Delaware each year and road trips with his caregivers.
Bryan is survived by his dad and mom, Jim and Marge, brother Kevin, and numerous aunts and uncles and cousins.
An informal celebration of his life will be held on Sunday, December 19 from 12:00- 4:00 p.m. Please stop by his family home at 7 Ervin Drive in Wappingers Falls, NY anytime during those hours. Memorial contributions in his honor can be made to Challenge Alaska (http://www.challengealaska.org/), 3350 Commercial Drive, Suite 208, Anchorage, AK 99501 for the huge opportunities they gave Bryan in life.
To send flowers to the family or plant a tree in memory of Bryan Arnold, please visit Tribute Store
Gathering
12:00 pm - 4:00 pm
Sunday, December 19, 2021
Family Residence
7 Ervin Drive
Wappingers Falls, New York, United States
Share Your Memory of
Bryan