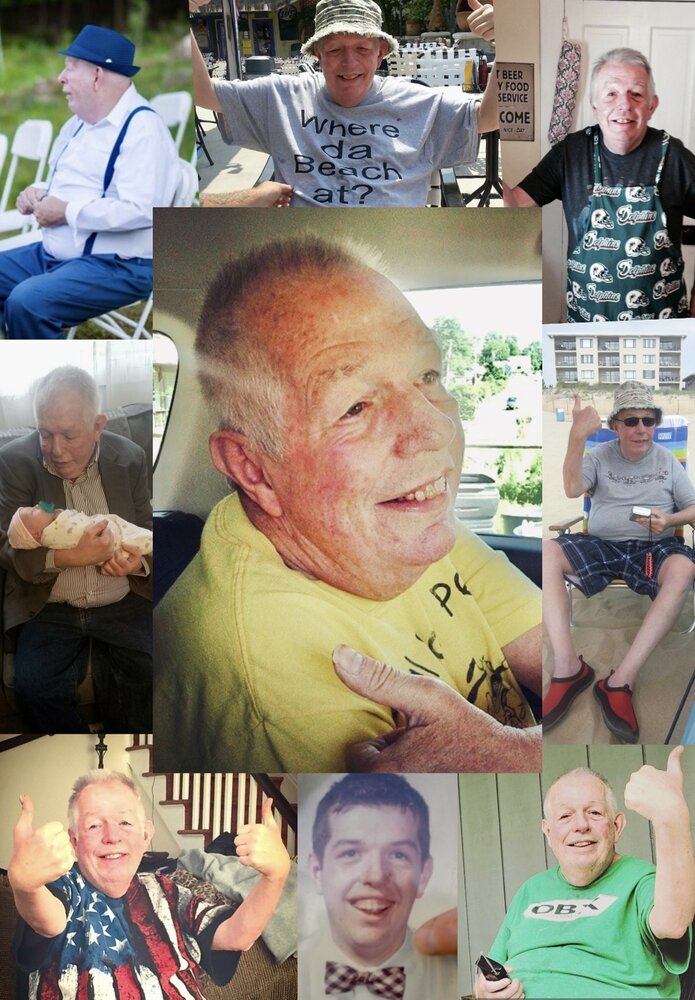 Obituary of Ernest W. Blake Jr.
Ernest Warren Blake Jr. ("Lil" Ernie), age 75, was an adored Son, Brother, Uncle, Cousin, and Friend. He was surrounded by close family when he left the world on June 29th, 2022, to return home to be with his late parents, whom he missed dearly.
Ernie was the first born to Marjorie L. Blake and Ernest Warren Blake Sr. on February 26, 1947, in Poughkeepsie, NY. Coincidently, he shared the same birthday as his late father.
Ernie grew up in Hughsonville in Wappingers Falls, New York. He lived with his parents for most of his life. He attended elementary school up until his learning differences became noticeable. During that time, his parents advocated alongside other Dutchess County parents seeking appropriate schooling and support for their "special children," who had been told by the vast majority that the only hope was to institutionalize them. As a result of strong community advocacy, The Dutchess County Association for Mentally Handicapped Children was formed, later known as The Dutchess County Association for Retarded Children (ARC). Ernie attended Dutchess ARC's programming from its earliest days and went almost every day for nearly 40 years.
After his parents died in the late 1990s, Ernie gained a sense of independence. He lived in a couple of different residential homes. One of those homes included the NASHOPA house of Crystal Run Village Inc., where the Blake Family's beloved chocolate lab, "Nestle," accompanied Him in the home up until her death.
In the early 2010s, Ernie returned home to be with family once again, residing with his only brother, his younger brother, Jeffrey Blake, in the Town of New Windsor. Ernie spent the last decade of his life being cared for by his brother Jeffrey and his wife, Carol.
Ernie appreciated the simple things in life. In his earlier days, he enjoyed riding his bike. He loved a good back and forth "catch" and shooting baskets in the driveway of his home in Hughsonville. He spent his summers with his family in Ocean City, Maryland. The beach was arguably his favorite place, especially Assateague Island, where he could sit and watch the horses. Ernie also loved his television. From Howdy Doody to Gunsmoke and Petticoat Junction to the Happy Days and the likes, He yelled at Marshall Dillon more than Festus. Ernie also got excited over televised sports. He loved NY sports teams; among his favorites were the NY Mets and the Knicks. He enjoyed spending time with his family, listening and often singing to his handheld radio, and enjoying a good home-cooked meal.
Ernie was a bright light; he was always smiling. If you had the pleasure of meeting him, you could never forget him. He lived a life full of laughter and was surrounded by endless amounts of love. This is "The importance of being Ernie." He was truly the "Dearest brother."
Ernie leaves behind his "Dear Brother," Jeffrey Blake, and his wife, Carol Spina. Jeff's former spouse also survives him, "Chrissy" Christine Blake, and their children, "Nephew" Colin Blake, "Sunshine" Caroline Blake, and "Courten" Courtney Blake Locke, along with her husband John Locke and their two children (Ernie's great-nieces), Emberly and Rayleigh Locke.
Family and Friends are invited to attend a Celebration of Life gathering in honor of Ernie on Sunday, September 4th, 2022, anytime from 1 pm-4 pm at Bowdoin Park at 85 Sheafe Rd. Wappingers Falls, NY 12590. Pavilion 2. In lieu of flowers, the family requests that donations be made to The ARC Greater Hudson Valley, designated to the Dutchess County Programs at https://arcghvny.org/ways-to-give/donate-now.html
To send flowers to the family or plant a tree in memory of Ernest Blake Jr., please visit Tribute Store
Celebration of Life
1:00 pm - 4:00 pm
Sunday, September 4, 2022
Bowdoin Park, Pavilion 2
85 Sheafe Road
Wappingers Falls, New York, United States
Share Your Memory of
Ernest