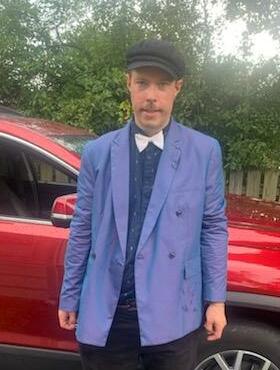 Obituary of Markus P. Suhonen
Markus Suhonen, a resident of Wappingers Falls, ended his own life on Monday, July 31, 2023 at his home. Markus was battling internal struggles which not many people knew about. He was 35 years old.
Son of J. Suhonen and Elizabeth Suhonen, he was born on May 30, 1988 in Zurich, Switzerland. He lived in Switzerland with his mom, dad, and sister Christine until 1995, when the family relocated to the Hudson Valley in New York state. Markus grew up in Yorktown Heights, New York, attending schools and camps and enjoying biking on the bike path and visiting playgrounds. His parents divorced and he lived several years with his dad and then moved in with his mom. In adulthood, he has lived in several apartments, his first in Yorktown Heights, later in Hopewell Junction and then in Wappingers Falls, New York.
As a resident of Wappingers Falls, he spent his time volunteering, mainly with Meals on Wheels, an organization that provides meals to seniors, and also at County Players, the local theater. Previously he had also volunteered/worked at the Grinnell Library in Wappingers and attended GED classes there and also at the local Dutchess Community College.
He loved music and enjoyed going out dancing. He self-taught himself how to DJ and DJed several gigs. He was interested in clothing and curated for himself an exceptional wardrobe with wonderful outfits. He played Flight Simulator, a computer game that simulates realistically piloting airplanes across the globe. He enjoyed taking Finnish sauna as well as fishing, boating, and ice swimming with his dad. He was a true connoisseur of fine foods and was extremely knowledgeable of good restaurants to eat at, whether it be in Boston, NYC, Hudson Valley or Helsinki.
Markus was diagnosed with autism at a young age. He has exhibited great sensitivity to the world around him (for example, he frequently wore ear plugs). Throughout his life, he has struggled with emotional regulation, behavioral issues, and depression. To his immediate family, he had often spoke of his suffering and wish to die. Despite these challenges, he learned to do exceptional things such as those mentioned above as well as independently traveling to Finland to visit his dad. He found great joy in making new friends through volunteer work, church, chatting with neighbors, outings with his mom, visiting his dad in Finland, and visiting his sister in the city. He enjoyed gathering his friends by planning parties. His sense of humor brought smiles to many.
Survivors include his mother, Elizabeth Suhonen of Wappingers Falls; his father, J. Suhonen of Helsinki, Finland; his sister, Christine Suhonen of New York City; his uncles, Mark Anderau and wife Martha, Peter Anderau and wife, Cindy, and Juhani Suhonen and wife, Helena; his aunt, Riitta Valtavaara and husband, Heikki; as well as his cousins Tom and wife Caroline, Steve, Madalyn, Juhana, and Simo.
Family and friends will gather to remember and celebrate Markus from 10 a.m. to 2 p.m. on August 12, 2023 at Straub, Catalano & Halvey Funeral Home, 55 East Main Street in Wappingers Falls. A memorial service will be held at 1:00 pm at the funeral home and can be watched on the funeral home's website. Reception to follow, 2:00 pm to 5:00 pm at Norma's eatery in the village. All are welcome.

In lieu of flowers, memorial donations may be to Meals on Wheels of Wappingers Falls, 12 Satterlee Place, Wappingers Falls, NY 12590 or to Asperger/Autism Network (AANE), 85 Main Street, Suite 3, Watertown, MA 02472.
Markus wished for disabled people to be more incorporated into society. To help fulfill his wish, we can be welcoming and helpful to others, no matter what their capability.
To send the family a personal condolence, please visit the website www.StraubCatalanoHalvey.com.
To send flowers to the family or plant a tree in memory of Markus Suhonen, please visit Tribute Store
Visitation
10:00 am - 2:00 pm
Saturday, August 12, 2023
Straub, Catalano & Halvey Funeral Home
55 East Main Street
Wappingers Falls, New York, United States
(845) 297-2610
Memorial Service
1:00 pm
Saturday, August 12, 2023
Straub, Catalano & Halvey Funeral Home
55 East Main Street
Wappingers Falls, New York, United States
(845) 297-2610
Share Your Memory of
Markus