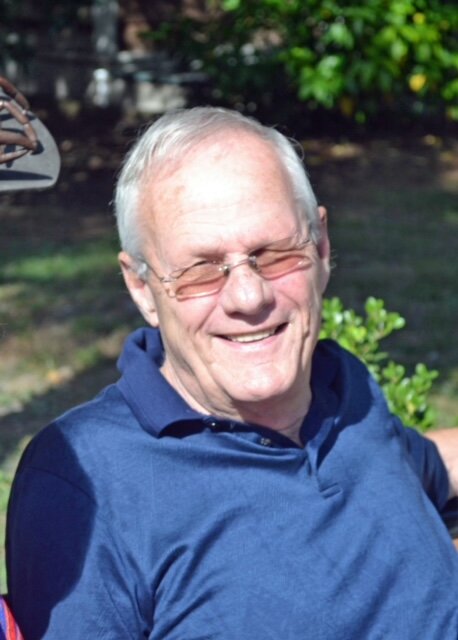 Obituary of Edwin B. Hinzmann, II
Edwin "Ed" Bernard Hinzmann II departed this life on July 10, 2023 at his home in Hardeeville, SC. He was 74.
Ed spent his formative years in the Hudson Valley. He was born on January 28, 1949 in Poughkeepsie, NY, the second child and only son of Edwin Bernard and Edna Mae (Owen) Hinzmann. His childhood home in the Village of Wappingers Falls, NY could best be described as warm and cozy — it was a two-family house with his maternal grandparents, William and Sarah Owen, on one side of the house and him, his parents, and four sisters on the other side. When he was a teenager and his paternal grandfather came to live with the family, Ed moved across the porch to live with William and Sarah. Despite living a life that would take him all over the world, Ed looked back fondly on his upbringing in the place many simply call "the Village."
Ed attended St. Mary's School and Wappingers School District. He graduated from Roy C. Ketcham High School as part of the Class of 1967, one of the first classes to spend all four years in the school.
In 1970, Ed enlisted in the U.S. Army. One of his most emotional memories was his father dropping him off at the train station and kissing him on the forehead before he departed for service. This would kick off a military career that would span 25 years and bring him to several places, including a combat deployment in Vietnam. Ed served eight tours overseas and was honorably discharged in 1995.
On January 11, 1975, Ed married fellow Dutchess County native Kathleen Hermann while stationed in Key West, Fl. Together, through decades of military service and moves to different bases, they raised their two children, Edwin "Eddie" Hinzmann III and Katie Hinzmann. Stateside, the family lived in Florida, Connecticut, California, Texas, Missouri, and Kansas during Ed's time in the service. However, he always spoke most fondly about their years in Germany. Ed decorated his home with the artwork and collectibles he picked up during the family's time there.
In 1996, Ed and his family moved to South Carolina and eventually built a home in Goose Creek. Ed worked for military contractors and spent time working as a contractor in Kuwait. When they weren't working, he and Kathy would often be found tending to their extensive garden and entertaining neighbors, family, and friends who stopped by to visit. During their time in Goose Creek, Ed and Kathy became in-laws to their son's wife, Anna, and grandparents to Eddie and Anna's daughter, Hayleigh.
Kathy preceded Ed in death on March 19, 2016 at the home they tended to for nearly two decades.
Embarking on a new chapter a few years later, Ed moved a little further south. He experienced "changes in latitudes, changes in attitudes" by becoming one of the first homeowners in the Latitude Margaritaville community outside of Hilton Head. His new environs brought a wonderful network of friends, quickly making him feel at home. He enjoyed playing whiffle ball, darts, dancing, cracking jokes, and spending time with his very close friend, Constance "Connie" Wedel.
Despite facing a prolonged battle with cancer, Ed happily kept up with the friends he had made. Even on his last day, he made sure to get out of the house and spend time with them.
Anyone who met Ed knew that he was the life of the party. Few people, young or old, could keep up with him on the dance floor. At any social gathering, he was the loudest and funniest one in the room. If you were with him, it was only a matter of time until you burst out laughing — even if the joke was at your expense. It seems fitting that Ed spent his twilight years living life to the fullest in a Jimmy Buffett-themed community because, as Mr. Buffett once sang, "If we couldn't laugh, we would all go insane."
Survivors include his son Eddie and his wife, Anna; his daughter, Katie; and his granddaughter, Hayleigh. He is also survived by his dear friend, Connie Wedel; his sisters, Dorothy Fink (Fred), Mary Steber (Dave), Jean Hinzmann, and Kathleen Bentley (Bob); as well as a number of nieces and nephews.
Ed's family is grateful for the love and support of Connie and the community of good friends he made while living in Latitude. Particular thanks go to Paul and Linda Hoffman who checked in on him regularly during his illness. Between his friends, his family, and the care of his hospice nurse, Bailey, Ed was able to maintain good spirits and his trademark humor to his last day.
A graveside service with full Military Honors will be held on Saturday, September 16, 2023, at 11:00 a.m. at the Wappingers Falls Cemetery. He will be buried at the same gravesite as his Grandpa and Grandma Owen, who he briefly lived with. Arrangements are being made through Straub, Catalano & Halvey Funeral Home.
To send flowers to the family or plant a tree in memory of Edwin Hinzmann, II, please visit Tribute Store
Graveside Service
11:00 am
Saturday, September 16, 2023
Wappingers Rural Cemetery
West Main Street
Wappingers Falls, New York, United States
(845) 297-3480
Share Your Memory of
Edwin