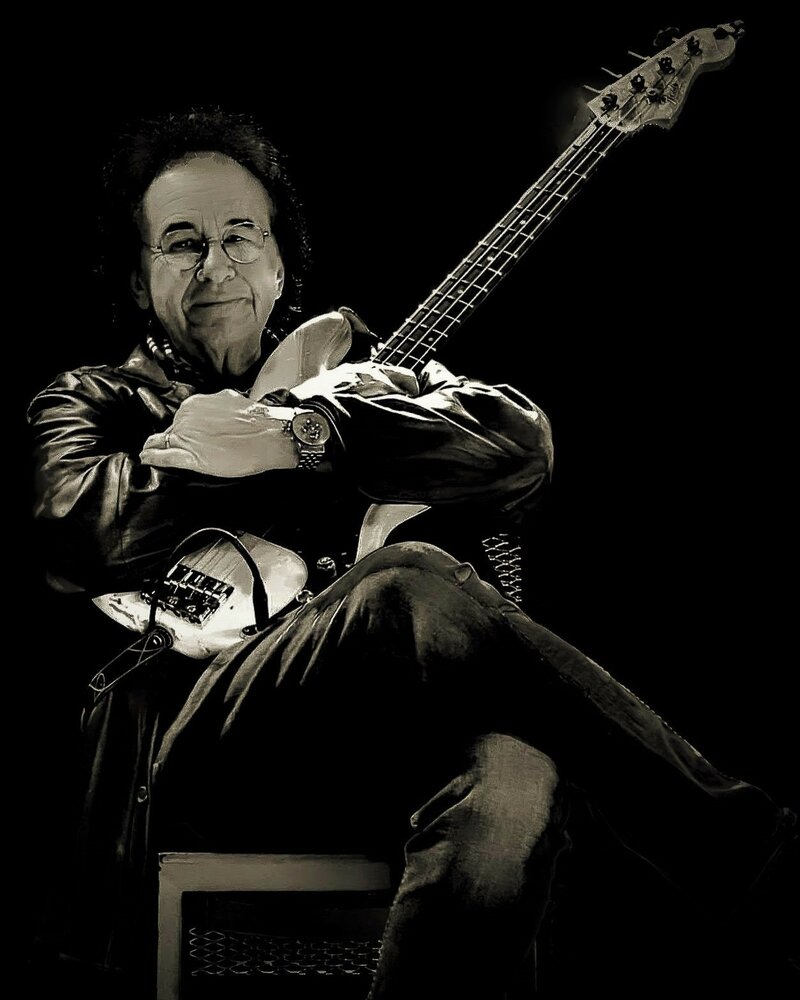 Obituary of John M. Regan
John Michael Regan, 71, passed away on Friday, April 7, 2023 at his beloved home in the Village of Wappingers Falls, NY. He was born October 28, 1951 in Poughkeepsie, NY.
John left his earthly body in the early afternoon of Good Friday to join his beloved parents, relatives, good friends and bandmates in Heaven. He got his wish of a hasty departure on one of the holiest of days.
He leaves behind his wife of 48 years, Cathy, his daughter Jeness, son Christopher and grandchildren, Mackenzie and Evan. He also leaves behind his cherished kitty Bella.
John was extremely lucky to have had a wonderful career as a musician. He performed in many local bands before being asked to join Peter Frampton as his bass player in 1979, shortly after Christopher was born. He was fortunate to remain with Peter for over 30 years. He also formed bands, recorded on albums, and performed with many other artists too numerous to mention here.
John was a humble man who was forever grateful for his career. He was kind to his fans, many of whom became dear friends. He acknowledged their birthdays, anniversaries, births of their children and many other special events in their lives. The outpouring of love from his friends and network has been outstanding. His biography of bands and recordings can be found on the internet or in one of many interviews he was so happy to give.
Though he traveled the world throughout his career, his favorite place was here at home with his family. John lived his entire life in this village and dedicated his services to the community over the decades as Commissioner of Mesier Park.
John was incredibly proud of his Sicilian heritage, and in 2013 received his Italian dual citizenship. He and Cathy visited multiple times over the years; it was always an experience that brought him incredible joy and peace. He was looking forward to visiting again soon, and frequently dreamed of someday living there. John was also blessed to be chosen and recognized at the State Capital in 2015 as an Italian American of the Year. He also shared his love of his heritage by hosting an all-Italian radio show called Café Italia.
Also close to John's heart was carrying on the legacy of one of his dearest musical mentors through the Dr. Edwin A. Ulrich Charitable Trust, which benefits business, music and arts education at Marist College and SUNY New Paltz, as well as the Bardavon Opera House, Meals On Wheels of Hyde Park, Dutchess County Hospice and the Poughkeepsie Children's Home.
John loved holidays and traditions, especially Christmas. He loved golf, Frank Sinatra, riding around with the top down on his convertible on a beautiful day, and gathering with his friends at various local spots for their daily morning coffee and conversation.
So many people have shared their happy memories of John and we, his family, will treasure them all.
John was predeceased by his parents, James and Theresa Regan, who he loved dearly. He was also predeceased by many of his close musician friends. We are sure they were there to greet him and are forming their own Heavenly band.
Two of John's favorite quotes were "All that you can take with you is that which you've given away" and "A heart isn't judged on how much it loves, but how much it is loved by others." He gave the important things and was truly loved by many... what more can you ask for.
Family will receive their friends and loved ones on Friday, April 14, 2023 from 4 to 8 p.m. at the funeral home. Our beloved friend Father Robert Repenning will preside over a memorial service there in his honor at 7:30 p.m. In accordance with John's wishes, cremation has already taken place, as well as donation of organs. A memorial celebration of John's life will take place at a later date.
In lieu of flowers, donations can be made in John's name to STRAYHELP.ORG, or any animal rescue or shelter that is close to your heart.
To send flowers to the family or plant a tree in memory of John Regan, please visit Tribute Store
Visitation
4:00 pm - 8:00 pm
Friday, April 14, 2023
Straub, Catalano & Halvey Funeral Home
55 East Main Street
Wappingers Falls, New York, United States
(845) 297-2610
Memorial Service
7:30 pm
Friday, April 14, 2023
Straub, Catalano & Halvey Funeral Home
55 East Main Street
Wappingers Falls, New York, United States
(845) 297-2610
Share Your Memory of
John